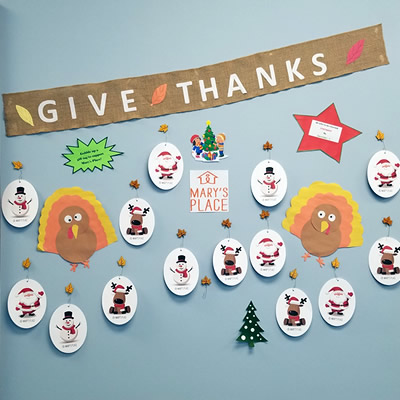 Did you know that Seattle is third in the United States for the homeless population? We want to help. At Shepherd Family Chiropractic, we are passionate about assisting those in need, such as homeless women, children and men in our city.
This is our 7th year in sponsoring a Giving Tree for Mary's Place, a local homeless shelter.
Their vision: "A community where all families have safety, stability, and housing."
Their Mission: "Mary's Place provides safe, inclusive shelter and services that support women, children and families on their journey out of homelessness."
Since 1999, Mary's Place has helped hundreds of women and families move out of homelessness into more stable situations.
How the Giving Tree Works
Patients may choose a tag for a toy for a child, a gift item for a parent, or a tag for $20 that the recipient may use to purchase groceries at Safeway (each tag is marked for a specific item).
Examples of Requested Items
Here are some of the items that have been requested this year:
Adults
Adults Seahawks shirt
Adult pajamas
Amazon gift card
Children
Disney toys
Hatchimals
Stuffed animals
Puzzles
Legos
If you would like to participate, please bring unwrapped gifts into our practice by Thursday, December 5.
Giving Kids a Chance to Shop for Mom & Dad
A Holly Jolly Party will be held behind Mary's Place where families will be served a wonderful meal during this fun event. Children will get to go into the Santa Store with an elf who will help them shop for their parents.
Thank you, in advance, for opening your hearts to help the homeless at Mary's Place. If you have any questions, please contact our practice.