New Patients at Shepherd Family Chiropractic
If you're visiting our South Lake Union chiropractic care center for the first time, we'd like you to know exactly what to expect. It's our goal to make your time with us a relaxing and pleasant experience.
Shepherd Family Chiropractic is described as vibrant, nurturing, comfy and a "safe harbor." Our atmosphere is bright and airy and family-centered. We feature modern technology in a cheerful and homey atmosphere. Welcome to our office!
ONLINE FORMS »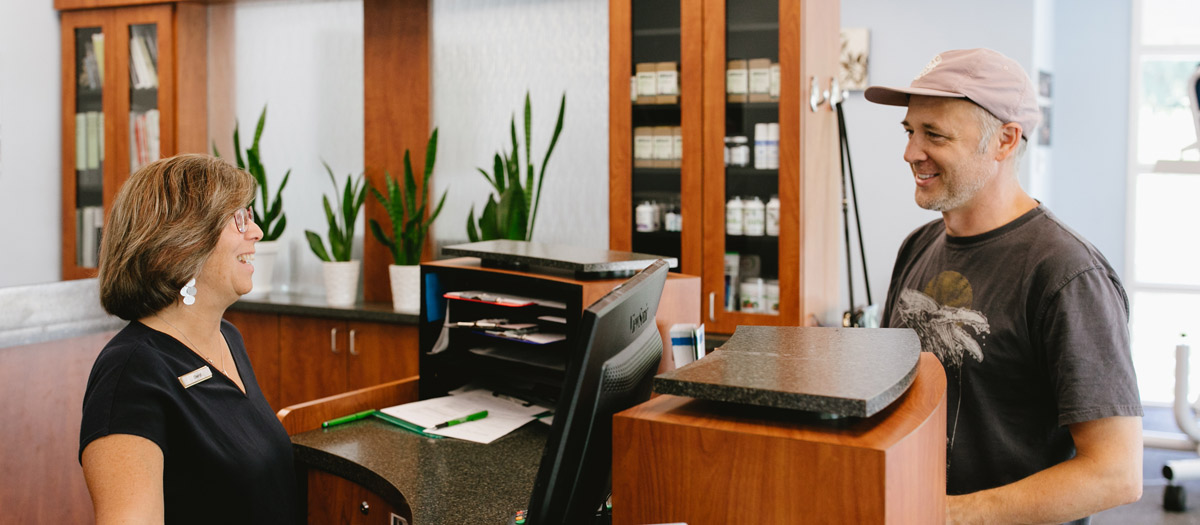 Your first appointment will take about 60 minutes. All you have to bring with you on this initial visit will be your driver's license and your insurance card, if applicable.
As you enter our clinic, you'll be warmly greeted and invited to complete your new patient paperwork if you haven't already done so. Our chiropractic technician will then take you back to our exam room to obtain some preliminary information.You'll then meet with Dr. Shepherd, who will assess you through a thorough consultation and chiropractic examination. If you're a good candidate for our care, then he will authorize our technician to complete your exam through our MyoVision testing. This noninvasive diagnostic technology will include
Range of motion studies
Surface electromyography
Thermography
Following your testing, Dr. Shepherd will evaluate your examination and scan findings to help you understand the source of your problem. Customized care options that align with your goals will then be offered for your consideration. Our office manager will then review your insurance benefits, and payment arrangements will be discussed.
You'll then receive your first gentle chiropractic adjustment
Most visits take no longer than 15 minutes. Depending on your condition, cold laser therapy may also be included in your care to help you heal more quickly.
Let's Get Started!
Once you're feeling great again, your choice as to how long you want to benefit from chiropractic care is up to you. Most patients enjoy their newly rediscovered vitality and wish to continue with wellness care on a periodic basis. Whatever your decision, our door is always open. We feature emergency hours and always offer new patient pre-acceptance interviews. Contact our South Lake Union office today!
CONTACT US »
Patient Testimonials
Amazing experience from all of the staff.

Thank you for what you do. You live up to your reputation and my expectations. Look forward to working with you to get my Sciatica issues behind me!

Dr. Shepherd seemed to understand my issues and diagnosed them after testing. I'm hopeful that we're now on the right track.

They are great! Small family business, can't get better than that. And they say my name right.

It was a very nice touch for Dr. Shepherd to reach out to me personally via text the evening after my 1st appt. to see how I was feeling. I did not expect this from American Healthcare.

Looking forward to getting good work done for long term results.

Such a relief that I could be seen and so able! I was afraid my back pain was going to be my new normal. But now I have hope! Thank you!

Extremely caring and friendly. They listened to everything I said and look forward to my next visit.

Very good experience and I am satisfied with your service!

Dr. Shepherd and his staff are great. Very welcoming, everything was explained well I had an exam and an adjustment. So far so good.

I am delighted thus far with the expertise, understanding, and support that has been demonstrated by everyone in the office!

Amazing and extremely friendly team. First visit could not have been any better.

Dr. Shepherd and staff took the time to explain all of the procedures and made sure I was comfortable throughout my appointment. I left feeling more educated and have more confidence that we have an effective plan in place.

Thank you for taking such excellent care of both my daughter and me. We truly appreciate the care and attention to detail that you show in every step of the way.

Everyone was very helpful and kind. The assessment was thorough and it was a wonderful customer service to have Dr Shepherd follow up with a text. Thanks for caring!

Great first time experience! Dr. Shepherd was very knowledgeable and provided me with lots of important feedback about my body. The staff was very friendly and made setting up appointments very easy.

Thank you so much, I left feeling hopeful having a better understanding of my body mechanics. The staff was Amazing.

The first appointment process was excellent. Everything was explained thoroughly regarding their office procedures, insurance, diagnosis & suggested treatment.

I very much enjoyed the warm welcome to the clinic after being referred here. I feel great after my visit and understand the passion Dr. Shepherd has for his work based on our conversations on influences on the body with the back's health. The technology utilized is very informative and gives me confidence that Dr. Shepherd is focusing on target points to better develop my care. Thank you very much to all of the Shepherd Family Chiropractic clinic!

This was my first visit to a chiropractor in over 7 years and I was blown away by the thoroughness, thoughtfulness and care Dr. Shepherd and the entire staff offered during my initial appointment and since then, few follow ups.

New Patients at Shepherd Family Chiropractic | (206) 691-1800