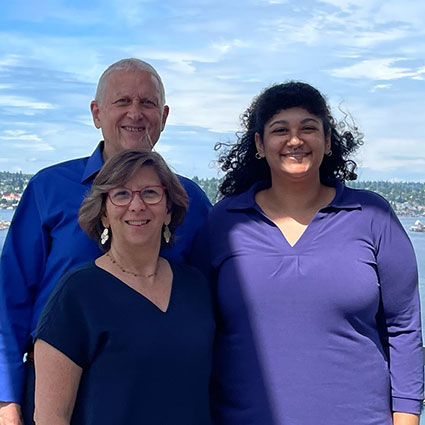 Our Reviews
What Our South Lake Union Patients Say
At Shepherd Family Chiropractic we love when patients share with us their feedback and comments after chiropractic care. Please read our patient testimonials below to see what other people have achieved through their tailored treatment plans with us.
Share your stories too! Click here to send us your feedback so that we can help to spread the word about the benefits of natural Shepherd Family Chiropractic care.
For more information or to schedule an appointment call or email us today.


Great Team
Dr Shepherd and his team had extremely clear explanation about the pain causes and the treatment process. As a new customer I felt very welcome.
I can only recommend this great chiropractic center.
E.V.
I Felt Exponentially Better Each Visit
Dr. Shepard is excellent! I have had 3 treatments and I felt exponentially better after each visit. I still have pain but it seems that this pain is from old injuries that never healed properly. I feel fortunate and blessed to have the opportunity to receive treatment from Dr. Shepard!
I'm confident that over time, his treatments and methods will resolve the pain from my old injuries.
E.M.
Professional, Attentive, and Collaborative.
Felt like the right fit for my particular problem. Everyone was professional, attentive, and collaborative. Lovely experience. I'm a healthcare provider and appreciated how seamless everything was. The added touch was getting a check-in text in the evening to see how I was doing.
K.C.
Smooth Transition
My first appointment set me at ease since my referring practitioner moved out of state. He was the only chiropractor that worked for me so I was distraught when I found out he was moving. The transition to your practice was smooth and I felt great after my first adjustment.
M.A.
Helped Child Feel Comfortable
This appointment was for my 7 year old with pronation (rolling in feet/ankles). They handled her wonderful. She was unsure what was going to take place with the feet and back scan, but everyone in the office helped her feel comfortable and showed her ahead of time the tools and let her touch and feel them. I would recommend Dr. Shepherd and his office staff for people of all ages and all aches and pains.
M.S.
Both Mom-to-be and Baby Benefited From Chiropractic Care
Throughout my pregnancy, I received chiropractic care from Shepherd Family Chiropractic. By the end of the day, not only did I have a pain-free pregnancy, but also a healthy, full-term baby with a 99th percentile height! I have always had mild back pain. When I found out I was pregnant, I decided to seek chiropractic treatment to keep it from getting worse. I chose Dr. Shepherd because he is a Webster-certified practitioner using Activator Methods which is a safe and more gentle technique for pregnant patients. My initial back pain was quickly relieved. I kept receiving regular adjustments for maintenance. And by the end of my third trimester, I had an active and pain-free pregnancy. As for the baby in me, Dr. Shepherd tailored the treatment according to baby's needs. A balanced pelvic floor provides space for baby to grow and to be well-positioned for birth. And my baby benefited tremendously from the care I received.
I hope all moms-to-be get to enjoy their pregnancies. And I highly recommend Dr. Shepherd and his wonderful staff at Shepherd family chiropractic.
L.N.
I Highly Recommend Cold Laser Therapy!!
I would like to send encouragement to anyone who suffers from fractured bones in the foot. I had pain with every step I took and went to my podiatrist who x-ray my foot and told me I had two fractured bones. I told Dr. Shepherd about the findings and he recommended I try a series of Low-Level Laser Treatments (Cold Laser). He explained to me that they would increase circulation, reduce inflammation and swelling, regenerate damaged tissue and promote rapid healing. I had never heard of Cold Laser Therapy but decided I would try a five-minute treatment and was shocked by the results. The whole foot felt energized and the swelling and pain had decreased. My foot not only felt better but I could physically see a difference. I then continued with the cold laser treatments over a number of weeks and when I returned to my podiatrist I knew his x-rays would reveal that the fractured bones had healed because I was walking pain-free. I highly recommend the use of Cold Laser Therapy!!
S.B.
My Symptoms Improved Following Cranial Adjustments
I'd like to share this cranial adjusting testimonial with your readers: about eight years ago I banged my head on a beam and suffered a severe concussion. Although the symptoms improved with time, six months later I was still struggling with lingering effects. The symptoms improved dramatically following cranial adjustments from Dr. Shepherd. Within a few weeks I was back to normal. A big THANK YOU to Dr. Ed!!!
Gary R. McLeod, DC
Amazed with the Transformation
In 2009 I had my braces removed and immediately began experiencing pain in my jaw and neck, along with bad headaches. Over the years I had seen several chiropractors, a TMJ specialist, physicians, physical therapists, massage therapists, orthodontists and dentists. Their collective recommendations were to use oral splints, permanent splints (glued in for up to one year), spinal adjustments, massage therapy, moving teeth slightly forward, crowns and fillings. The cemented splint worked wonders for me but I was only allowed to have it in for up to one year. The removable splints worked well too. Massage helped temporarily. I wasn't feeling fond of the idea of getting crowns or having any of my teeth moved so I opted out of those suggestions. Ibuprofen was my best friend after having the splint removed, but I knew that taking Ibuprofen was not a permanent solution.
My MD referred me to see Dr. Shepherd. I am amazed with the transformation over the past eight months as I have noticed great improvement! I feel taller, straighter and happier. I experience less body aches and less allergy symptoms. My knees and back hurt at times but one quick adjustment and the pain is gone! I no longer need to take Ibuprofen for pain.
My favorite day of the week is my chiropractic appointment day as I get to see Cheryl and Dr. Shepherd. I always leave feeling better. Cheryl is most welcoming with her warm and upbeat personality. Dr. Shepherd is by far the best chiropractor I have ever been to (and I have seen many) in regard to solving my pain issues. Thank you Shep Family Chiro!
R.A.
Found Relief Beyond Knee Pain
About 10 years ago I began experiencing knee pain. I sought treatment from my MD, who prescribed anti-inflammatory meds and referred me to a physical therapist. I received good results as there was less inflammation and the physical therapy exercises improved my range of motion. Although I was feeling better I wondered if I couldn't achieve more improvement.
I met Dr. Shepherd through the Wallingford Chamber of Commerce. I visited his office to take a tour and to learn more about his office and the Activator Method, and decided to make an appointment. I came to the office to receive treatment for my knee but since beginning care I have noticed that my diaphragm is more relaxed and my neck and jaw tension has been reduced. When Dr. Shepherd checks my leg length I am showing that I am even more often than not. I have more flexibility in my hips and more freedom of movement in my pelvis when I walk. My energy seems more balanced throughout my entire system!
Dr. Shepherd's office has a quiet, gentle, healing environment. It seems everyone receives excellent interpersonal care. This is a small practice with a truly personal touch. I feel I am treated as a whole person and not just a diagnosis.
L.F.
Neck and Shoulder Pain Relief
I began experiencing neck pain and shoulder pain about two years ago. Being in my late 20's and experiencing intense pain, I knew something was wrong. I was having trouble carrying my grocery bags, exercising and even working at my job.
I began my search for a chiropractor and discovered Shepherd Family Chiropractic on Yelp. Dr. Shepherd had great reviews so I called to make an appointment. Since beginning care I am experiencing improved movement in my neck and shoulders. I have also noticed that my sleep has improved and that I have more energy and better focus. I also feel more stable and grounded in my body.
I have never enjoyed going to a doctor's appointment but Dr. Shepherd and Cheryl always make me feel comfortable. I always have a wonderful experience and can honestly say that I like going to my chiropractic appointments!
A.S.
Chronic Back Pain Relief
For several years I have been dealing with chronic back pain and a year ago I was diagnosed with a rotator cuff injury along with bicep tendonitis. I saw my MD and an orthopedic doctor, who recommended physical therapy for the rotator cuff injury (no recommendations for my chronic back pain). During this time I would occasionally use ibuprofen and often used heat, which only offered moderate results.
I found Dr. Shepherd through the Activator Methods website. Since beginning care, my neck and shoulder pain have improved with reduced tension. My low back is now stable and asymptomatic. I find that my upper back pain and right shoulder pain continue to improve.
After getting my chiropractic adjustment I always leave feeling better and have enjoyed the process to get myself aligned and stronger to maintain my active lifestyle! I have found that Chiropractic care combined with physical therapy and massage helps keep me stable.
R.W.
Pain Relief During Pregnancy
I was 36 weeks pregnant and experiencing severe sacroiliac pain. With every step I took I experienced horrible pain. I was in such obvious pain that people would stare at me when walking down the street. Moving from the couch to the bathroom was more than I could handle.
I decided to see a Chiropractor and discovered Dr. Shepherd on Yelp. I read his positive reviews so I called and made an appointment. After two weeks of chiropractic care with Dr. Shepherd I felt like a normal person again – I could actually walk without pain! I cannot believe how much relief my visits have brought me.
I also appreciate that Dr. Shepherd saw how much pain I was in and actually cared about my feeling better. I had no idea a Chiropractor could help me so much and am so grateful to the Shepherd Family Chiropractic team. I am feeling so much better that I am now actually enjoying my last weeks of being pregnant!
L.T.
Low Back Pain Relief
Nearly fifteen years ago I began experiencing low back pain; four years ago neck pain and most recently thumb pain. I have seen many chiropractors over the years. Their recommendation for me was high velocity adjustments and orthopedic inserts for my shoes. I would find some relief for one to two weeks but the pain would always return. I would take ibuprofen and/or naproxen during the acute pain episodes.
I participated in a class that Dr. Shepherd taught at Bastyr University where I learned more about the Activator Technique. I love this technique of managing structural integrity! I feel that this technique is more gentle and FAR more effective than any other treatments I have had.
Since beginning care with Dr. Shepherd I have noticed a reduction of nasal congestion and an overall improvement of my immune system. I have begun working out again and because I am no longer getting sore after workouts. I find that I can maintain a regular workout schedule! I am sleeping more comfortably because I no longer have knee pain that is associated with lumbar/pelvis displacement, and of course I am no longer experiencing neck pain nor thumb pain! No more pain killers needed, thanks to you Dr. Shepherd!
C.C.
Several Health Improvements with Chiropractic Care
I've experienced knee pain and back pain for most of my life. I saw an MD for the back pain and he suggested physical therapy, but I didn't feel any improvement. I ended up having surgery to repair torn cartilage in my knee. This did cause improvement in my pain, however, it never completely healed.
A colleague referred me to Dr. Shepherd, and my back and knee are now far less painful and I find that I now have more mobility. Prior to receiving chiropractic care I would get terrible headaches due to neck pain, and Dr. Shepherd discovered that my jaw was contributing to the headaches. He would adjust my jaw and neck and now I find that headaches don't bother me anymore! I have noticed several other health improvements since beginning chiropractic care as well!
M.P.
Neck Pain Relief
I was experiencing neck pain on a daily basis. I attended a presentation called "The Astonishing Dr. You" at Mirabella Seattle Retirement Community, after which I decided to call Dr. Shepherd's office for an appointment. Regular treatments (coming in 2x/week for adjustments) for several months has significantly reduced my neck pain! A secondary condition I had been dealing with, low back pain, has also been reduced with adjustments and exercises that Dr. Shepherd prescribed specifically for me to help strengthen my lower back.
Everyone at Shepherd Family Chiropractic is extremely polite and friendly! I have appreciated their interest in me and their level of care. I will recommend this family practice to anyone I know suffering from neck pain or back pain that can be taken care of by a chiropractor!
B.W.
Shepherd Family Chiropractic Reviews | (206) 691-1800